Model X (2015-2021)  Ultrabright Bulbs
(not compatible with Refreshed Models)
>
Since 2014, over 200,000  bulbs sold and 2000+ great reviews - welcome to the original and best-reviewed aftermarket accessory for your Tesla Model X (2015-2021, aka pre-Refresh)! Please note, the lights behind the speaker covers in the falcon-wing doors are not upgradable.
16x brighter than the factory bulbs, CE & RoHS certified - these are the only bulbs for your precious Tesla!
⚠️ Beware  of lower-quality bulbs, or vendors that claim more LED's = More light. Typically that actually means more heat and a shorter lifespan.
Our bulbs are CE-certified, and battle-tested in tens of thousands of Tesla's since 2014. With any LED bulb, the quality of the components, not the actual LED, will define how long the bulb lasts.
The window motors in your Model Y are grounded through the puddle lights, so if the light fails, so does the window, and it will not lower when you open the door.
💰 Looking to save? Our bundle kits include everything you need for a great price! Value Bundles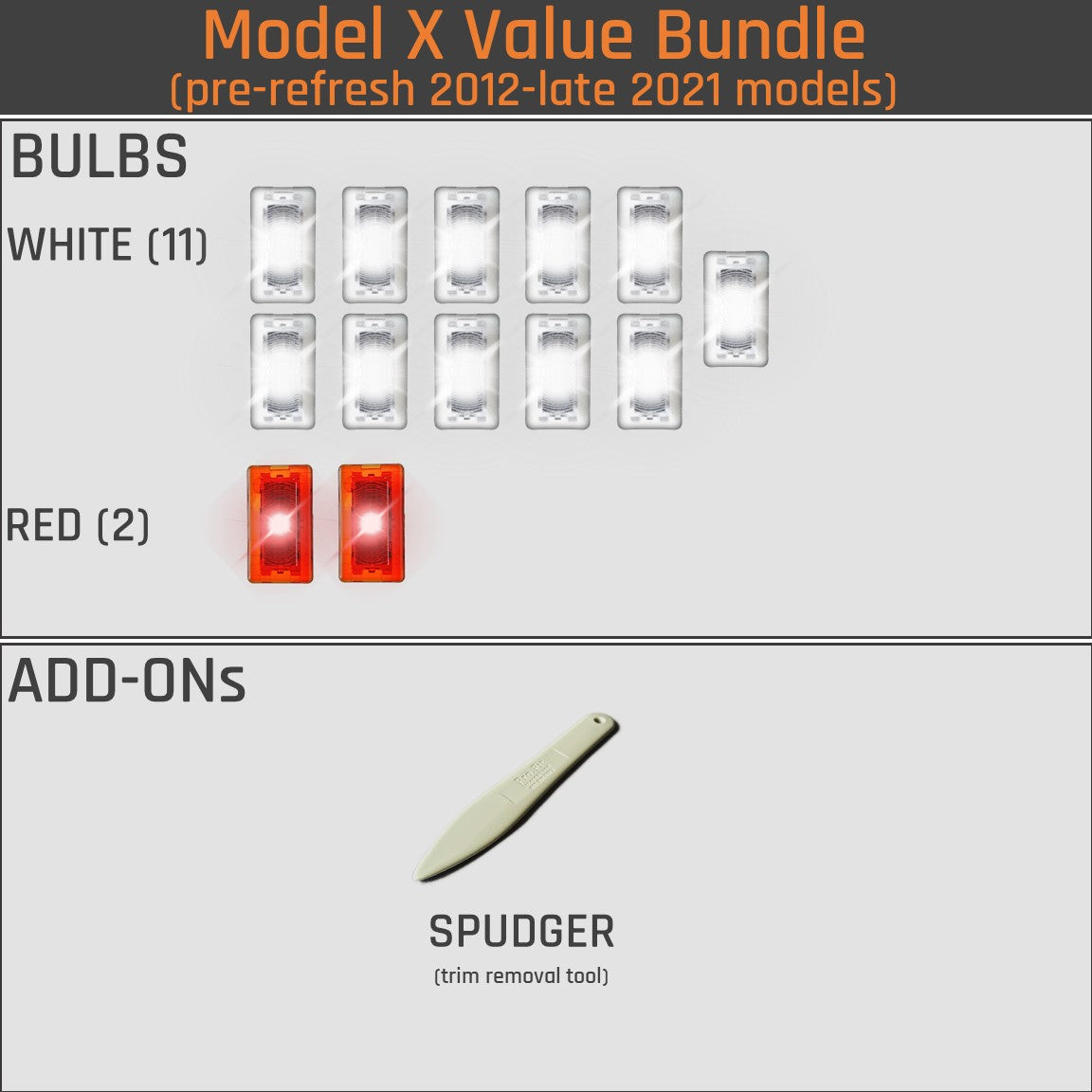 Model X Value Bundle
If you're looking for a deal, then our value bundles are for you. Everything you need to upgrade all the factory lights in your Model X, using our brightest white ultra-bright lights. Eleven white bulbs for the front doors, trunk, frunk, footwells and glovebox, two red lights for the rear-facing lights in the front doors, and a spudger to ensure an easy installation experience!
Compatible with all 2015-2021 Model X's - Not compatible with Refreshed Model X. Click here to sign up for Refreshed lighting availability.
Save $13.86 over buying individually.